SHOP RI owns the biggest small business on Saturday to date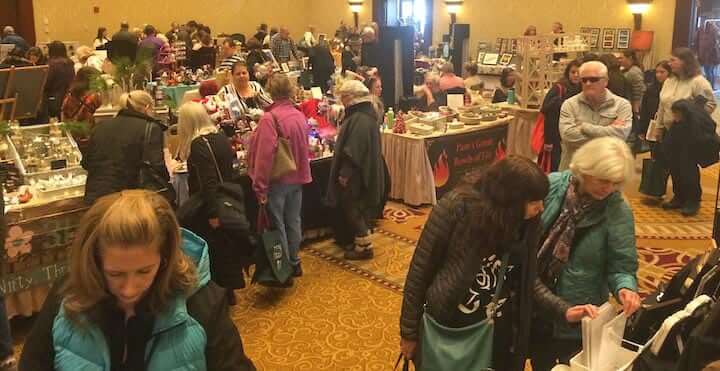 WARWICK, RI – The fifth installment of the Small Business Saturday SHOP RI trade show will be the largest to date with 160 local vendors set up across the first floor of Crowne Plaza Warwick, and it couldn't be better.
The annual event, where many returning businesses report their best sales of the year, is a welcome opportunity to turn around a tough business year thanks to the COVID-19 pandemic, with lockdowns and shortages of supplies and labor -works that afflict the owners. Sue Babin, president of SHOP RI, pointed out that 90 percent of businesses in Rhode Island are small businesses. Many of these businesses are so small, but they did not qualify for the federal aid that has helped many large businesses in Rhode Island.
The business show, where many returning companies report their best sales of the year, is a welcome opportunity to turn around a tough business year thanks to the COVID-19 pandemic.
"They too have suffered tremendous hardship," Babin said of the state's small business community. Small Business Saturday and SHOP RI will provide some relief to those who have struggled to keep running this year.
In addition, she said, many people who have lost their jobs due to the COVID-19 pandemic have joined the ranks of the self-employed.
Babin is also the Special Projects Coordinator at the Rhode Island Developmental Disabilities Council (RIDDC), which offers business development courses and other resources funded by a grant from the State Department of Labor and Training for people with disabilities and others. to start and develop their businesses. She is also excited to add more entrepreneurs with disabilities this year with 26. In 2019, the last in-person event, they had 20. Babin proudly points to the people the RIDDC has helped build businesses, showing: " People with disabilities can be entrepreneurs like everyone else, "she said.
Kathy Gudmundson Photography
One of RIDDC's 26 exhibitors is Kathy Gudmundson, owner of Kathy Gudmundson Photography, which sells her photographs of the natural world, including landscapes, birds and the moon. Kathy found herself providing her own means of keeping busy during the pandemic, when her adult day services program at the Trudeau Center closed. Where she could usually count on the center to organize daily activities, including walks in the park and a bowling alley, Kathy spent a lot of time finding her own entertainment.
One of those diversions was using his father's DSLR to photograph the world around him, Kathy said. "I just needed something to do," she said.
"She absolutely loved it," said Kathy's mother Lynda. Shortly after, Kathy and Lynda attended a RIDDC Zoom presentation on starting your own business. They started selling prints of Kathy's photos on her Facebook page, Kathy Gudmundson Photography, and at local arts and crafts fairs.
"She's had multiple commissions and we're really proud of her," Lynda said.
Kathy hopes to add to those orders when visitors stop by her booth at Shop RI at Crowne Plaza during Small Business Saturday.
"It's his thing. She loves it, "Lynda added.
Nansea Studios
Nancy Nielsen, owner of Nansea Studios, 5 Division St., East Greenwich, also turned his passion for art and creativity into a successful business. Nielsen sells her handcrafted sea glass / driftwood sculptures, coasters, ornaments, photographs, small framed art pieces and mosaic tiles from her studio on the Warwick-East Greenwich line, and will bring it all. this at his booth at Crowne Plaza on Saturday.
The heart of her business, she said, is "Sharing a part of myself with other people".
Nancy has been a photographer for nine years and started selling her work at holiday craft shows about five years ago, she said. But her creativity was really shaken in 2012 when she took an "Out of the Box" photography class that challenged her to point her camera in a way that was, "See life from an angle. different, "Nancy said.
She participated in a juryed art exhibition at the Wickford Art Association and was accepted. She credits this art class with the inspiration to be more creative in her work and less concerned with following the rules. Creating art has been a lot more fun since then.
"The excitement has kind of been this rolling ball," Nancy said.
Nancy first registered for SHOP RI's Small Business Saturday show last year, when the show was supposed to take place virtually. This will therefore be his first in-person presentation at the event. While her first forays into art focused on photography, she noted that people don't seem to want wall art for the holidays. So she began to channel her creativity into sea glass sculptures, small pictures and jewelry.
If it lights up a person's day, Nancy is happy to have created it.
"I love the idea of ​​being able to bring joy to other people," said Nancy, "It's fun having someone in my booth and seeing them smile."
Vanessa Piché Art
Vanessa Piché started with a degree in fashion at the FIT (Fashion Institute of Technology) at the State University of New York and followed this by studying outdoor painting (outdoor painting), incorporating nature into his art , sometimes literally, in the case of many unfortunate mosquitoes.
Her commercial art began when she 'married the two', transcribing her art on a line of t-shirts, which she sells in her shop at 10 Main St, North Kingstown, complete with gifts, prints, cards. and his new children's book, The adventures of Dune and Nash, which began as a series of drawings.
Vanessa's diverse merchandise is the result of careful thought about how to sell her art when many people seemed to tell her that they all ran out of space for wall art. His solution: clothes, gifts and books.
"It works really well together," she said.
This will be the third time that Vanessa will exhibit at SHOP RI. She's been hooked since her first experience there.
"It's just a great crowd. People come in and they are excited. They want to buy local things, "Vanessa said. "The crowd comes to shop."
Babin said she was very impressed with the spirit and creativity that characterizes the creations of local business owners, whether it is Kathy's eye for nature, Nancy's passion for traveling. the beaches of Rhode Island to find sea glass for her sculptures or Vanessa's creative energy channeled into clothes, books and gifts.
"These are pieces of their heart," Babin said.