The best APAA works under £ 25,000 at Frieze London and Frieze Masters 2021
Members of APAA (Association of Professional Art Consultants) have chosen their favorite works at the price less than £ 25,000 ($ 30,000) of Frieze London and Frieze Masters 2021.
GINA BEAVERS (Galerie Marianne Boesky)
Discover this double hamburger handle, 2021
Acrylic on linen canvas on panel
24 ¼ x 22 x 4 in.
American artist Gina Beavers brought our social media zeitgeist to life through captivating three-dimensional paintings made of layered acrylic. Beavers gives impasto new meaning by exploring popular Instagram designs, from "porn food" to makeup tutorials, like the job here.
MELVIN EDWARDS (Alexander Gray Associates)
Variações de correntes em cor (Variations of the color chain), 2019
mixed media on paper
Melvin Edwards was the first African-American sculptor to have a solo exhibition at the Whitney Museum of American Art. I had always loved his sculptures, but fell in love with his watercolor and ink on paper works that he began to create in 1974. Edward's works on paper were abstract and reflected the themes. of the African diaspora, chains and barbed wire – some of the materials he used in his sculpture.
AWOL ERIZKU (Ben Brown Fine Arts)
Last tears of the deceased, 2021
Digital c-print
42 x 30 inches
Edition of 3 + 2 PA (# 2/3)
The striking compositions of Erizku's staged photographs have layered meanings referring to his identity, African history, Islam and Hip Hop. In this work, Last tears of the deceased an Egyptian sculpture is immersed in water, making us reconsider our understanding of these objects and stories.
NAOTAKA HIRO (Herald Street)
Untitled (Groundwater), 2021
Acrylic, graphite, grease, pencil and pencil on wood
42 x 58 x 2 in.
Japanese-born artist Naotaka Hiro's is a fascinating artist whose mixed media practice is influenced by the Gutai movement and his experiences studying and living in Los Angeles. Hiro creates his works on thick plywood, encased in a frame with removable legs to raise them one foot off the ground. Lying down with half his body under the canvas, Hiro attacks the painting with graphite, grease pencils and carving knives to map his body on the surface.
BIN WOO HYUK (Galerie Baton)
Shrine 109, 2021
oil on linen canvas
160x190cm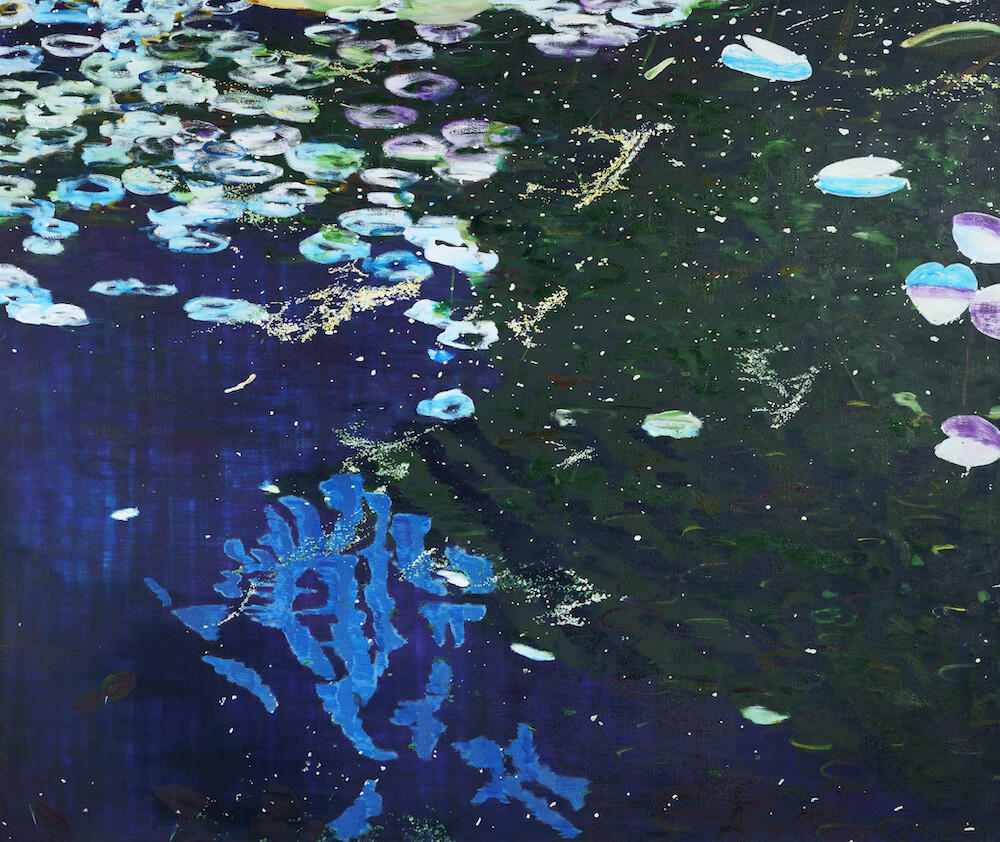 Abundantly painted and on a large scale, this immersive painting by Korean artist Bin Woo Hyuk seems to envelop the viewer. The dense composition of wide fields of color and patterned shapes oscillates between landscape and pure abstraction – the absence of a horizon line seems to refer to both traditional Japanese, Korean and Chinese landscape painting and Impressionism by Monet.
HANS STOLTENBERG LERCHE (Sculpture by Stuart Lochhead)
Un Pas en Avant (Un pas en avant, caricature of Rodin's Balzac en seal), California. 1898-1900
Plaster
23x8x9cm
I would be hard pressed to find a more enchanting work in Frieze Masters than Lerche's plaster caricature of Auguste Rodin's imposing monument to Honoré de Balzac. Commissioned in 1891 and presented at the Salon des Beaux-Arts in 1898, Rodin's Balzac was all the rage among both critics and the public, in particular because of to its amorphous form and its dubious resemblance to the author. One step forward, rendered with great wit and humor, was designed in response to the controversy in which the original sculpture has been compared to everything from a domestic pig to a seal. Here, Lerche, admirer of Rodin's inventive hand, mocks the critics of the senior artist. Originally sold in an artistic editions shop in Montmartre, only five are known to have survived, this version being the only one in private hands.
DONNA KUKAMA (empty)
Be announced, 2017
Copper, nails
Variable installation dimensions
Edition 3/3 + 1PA
In Be announced, the copper wall formations by contemporary artist Donna Kukama are wonderfully ambiguous, with just enough readability to provide the viewer with an entry point. Some words can be deciphered, recalling the vocabulary of protest and the hyperpoliticized 24-hour news cycle. Be announced is a holistic example of Kukama's interdisciplinary practice that encompasses performance, video, sounds, texts, and "non-monuments," all of which serve to challenge the way stories are told.
PAUL P. (Maureen Paley)
Untitled, 2021
Oil on linen canvas
10 63/100 x 7 24/50 inches
Paul P. brings the viewer back to the intimacy of our experience of looking. The artist's delicate brush, mastery of atmospheric color, and elegant glaze, not only hold formal and technical mastery, but also push the viewer into an experience suspended in the pigment. The figure in this work holds both innocence and experience.
Pair of Lions (Tomasso)
Verona, 15th century
verona marble
L: 26 x 11 cm (10¾ x 6¼ in.) Base: 11 x 16 cm (4¼ x 6¼ in.)
R: 25 x 11.5 cm (9¾ x 4½ in) Base: 11 x 16 cm (4¼ x 6¼ in)
It's hard to resist the urge to touch this pair of lions, with lovely surfaces and crevices rendered in red and spotted pink Verona marble. The symbolism of the lion persists to this day, evoking loyalty, ferocity, and maintaining its role as a guardian. Possessing a certain modernity and immediacy, these shapes are an opportunity for a collector not used to tapping into the art of 600 years ago to try it out.
KRISTIN WALSH (Helena Anrather)
Motor no. 3, 2021
Welded aluminum, extension
29 x 31.5 x 21 inches.
Kristin Walsh's aluminum constructions are formed in their space, both as visual objects but also as forms that produce an auditory experience. Walsh brings intimacy to mechanical production and materials that are often hidden or silenced by our daily experience.
NICOLE WEERMARS (rue Herald)
Untitled Pile (DSC Upholstered Chairs / Pink Coat), 2019
Balenciaga coat, stacking chairs, hardward, thread
64.9 x 35.4 x 29.5
This work by Nicole Weermars of his project "Infrastruktur", which captured the attention during its presentation at the Turner Prize, is a material exploration of both the commodity and the body. This work plays between intimately personal and consumer-oriented material production. The coat, the chair – the materials that hold their body, become a being in themselves.
BOIS D'ISSY (Carlos / Ishikawa)
The precision with which she renders surfaces – from leather coats and fur to porcelain soup tureens – has a fetishistic quality, a nod to surrealism. But just below the surface, Wood suggests the interiority of these objects, becoming an extension of oneself. The interiors of his cars are particularly compelling: a recurring trope in his work, their rich, padded surfaces capture the car not just as a possession, but as a deeply personal, sanctuary-like space. Examining the remnants of consumer culture, from the mundane to the particular, Wood's paintings are a vivid examination of materialism through its own eerie lens.
Frieze Viewing Room, Frieze London & Frieze Masters 2021 edition, is open from now until Sunday October 17 at midnight (BST). Sign up and explore here.